In the capital city of Oranjestad, Aruba you will find a number of great places to eat. From imaginative to creative, colorful to local, and even basic and practical. But where do you start when you are looking for a new restaurant?
When asking the concierge or even other hotel patrons what they recommend, we are always interrupted and asked, "Where are you from?" And even though I know they are referring to the Southern accent, it's always a surprise to them when we say, "Los Angeles, California." Then after the explanation of where we grew up and moving from East Coast to West Coast, we find a common love for anything food, and enjoy hearing the "What's New," or "Have You Heard Of…," or "The Best Place To Get Breakfast, Is…."
So after our last trip to Aruba, we wanted to share a great list of restaurants for you to try the next time you are visiting.
LINDA'S DUTCH PANCAKES
"A MUST FOR BREAKFAST IN ARUBA!"

One of the places that was most mentioned was Linda's Dutch Pancakes… and also the fact to go hungry, and also that you need patience since it requires 30 minutes in the oven to make your pancake.

Located in Eagle Beach, Aruba, we decided to make this our last breakfast outing before we left the island.
We found that these Dutch pancakes are SUPER HUGE and thin. You are able to customize them anyway crazy you can imagine. Then you roll them up, add the delicious syrup and ENJOY! I noticed they offer gluten-free pancakes, but Don enjoyed the Brie, Walnut and honey pancakes and a lot of syrup. while I ordered mine with coconut and pineapple, along with a shot of coconut rum on top, and of course, a lot of whipped cream.
On one hand, we were glad we chose this place, but sad on the other hand because we would have come back!
Note: It is totally worth the wait, however, I suggest you go early or you will be waiting in line with everyone else who reads this post
http://lindas-aruba.com
Palm Beach 6-D
+297-586-3378
info@lindas-aruba.com
http://www.lindasaruba.com
Open: Monday – Saturday 8 AM – 2 PM
Breakfast, Lunch
THE FLYING FISHBONE
Located in Savaneta, the Flying Fishbone restaurant has always been my favorite. From the atmosphere when you walk into the European cuisine and Caribbean flair, to sipping champagne and dining at your private table in the sand watching the sunset, The Flying Fishbone is a must on any travelers list.
The menu is always fresh catch and freshly prepared, and yes, everything is delicious. We recommend the Tuna Tataki for a cold appetizer, and the Seafood Pasta or the Halibut. Make sure you save room for the Crème Brûlée and Tiramisu Mousse. If you are having trouble just choosing one, try the Dessert Flying Fishbone, which is a combination of their homemade desserts.
Note: Make sure you call weeks in advance for reservations as the sunset times go quickly.
http://www.flyingfishbone.com
Savaneta 344, Savaneta Aruba
Tel: (+297) – 584 2506
Dinner: 5:00 pm – 10:00 pm
Cuisine(s):
International, SeafoodMain Course:
$24.00 – $59.00
Fine Dining
Beach Dining
Romantic Dining
Outdoor Dining
SCREAMING EAGLE
Located in Eagle Beach, the Screaming Eagle is a restaurant that is at the top of the list for it's trendy, unique, and South Beach style. With music playing softly in the background, the white curtains and linens add to the "take you away" feel.
Besides the amazing ambiance, the Screaming Eagle boasts a selection of over 300 wine labels and an equally matched drink list of inspired cocktails and liquors.
We had the Asian Glazed Pork Belly for our appetizer which was fantastic! For dinner, we chose Pan Fried Scallops and Grilled Apple Fried Bacon, as well as the Bacon Wrapped Grouper. And once again we chose Crème Brûlée for dessert.

For those who dare, request, "Dinner-in-Bed" experience where you will be pampered with either cozy indoor seating or outdoor patio seating with Aruba Tradewinds. This modern and unique happening will be even more memorable with Chef Erwin Husken's perfect combination of flavors and the attentive staff.
screaming-eagle.net
J. E. Irausquin Blvd. 228
Aruba
Tel: +(297) – 587 8021
Kitchen open daily from 6 pm – 11 pm
extended bar/lounge hours
Cuisine(s):
French, International
Main Course:
$30.00 – $45.00
THE RESTAURANT AT TIERRA DEL SOL
With most of the people we spoke with, we heard that for Sunday brunch, the Restaurant at Tierra del Sol is the perfect place to go for fine Caribbean cuisine. It offers a perfect way to explore the menu as well as checking it off your "Bucket List" as the most inviting atmosphere on the island with the most breathtaking views of the Caribbean Sea.
So, of course, we chose the a la carte Style Brunch with unlimited mimosas
This overwhelming menu of fresh flavors and local ingredients included a variety of appetizers, salads, main courses and of course decadent deserts. The portions are perfect – not too small nor too big and gives your stomach the opportunity to try something new, or go back for seconds.
And speaking from experience, the "shrimp & escargot" along with the "duck & ostrich" combinations are very highly recommended!
Note: Whether coming for Lunch, Brunch, or Dinner, make sure you have a reservation as they are always booked.
https://www.tierradelsol.com/en/the-restaurant-at-tierra-del-sol
Tierra del Sol
Caya di Solo10
Aruba
Tel: (+297) 586 7800
Opening Hours:
LUNCH: Mon-Sat 11am – 3pm
BRUNCH: Sun 11am – 3pm
DINNER: 7 Days 6pm – 10pm
2 Fools and a Bull
Another great place we found by asking around was 2 Fools and A Bull. And as our hotel bartender told us, "You'd Be A Fool Not To Try It!"
Located on Espanjola Way on the Palm Beach Road in Noord, 2 Fools and a Bull offers a private home dining experience. Created by Fred Wanders and Paul Faas, this "No Menu" unique dining encounter is a 3-hour group experience with your new found fellow epicurean connoisseurs, skillfully orchestrated by your hosts/chef/sommelier/entertainers…the Two Fools.
The "Chef's Table" concept allows you to try new foods and is a great balance of entertainment, socializing and story-telling of food, parings, and drinks.
A few of the dishes that were prepared for us that evening were: soup and homemade loaves of bread, Shrimp Ravioli, and Grouper Thermidor. Dessert was a sticky toffee cake with homemade ice cream. And YES, everything was delicious!
A BIG thank you to the 2 Fools for making us feel at home! We are looking forward to seeing you again soon.
Note: Be sure to make reservations (and confirm) well in advance because they get booked up quickly. I even heard someone say they had made their reservations 6 months in advance!! And P.S. MAKE SURE YOU ARE EARLY/ON TIME!
https://www.2foolsandabull.com
2 Fools and a Bull
across from Kong Fui Supermarket
Palm Beach Road17
Aruba
Tel: +(297) – 586 7177
Opening times: 7.00pm – 7.30pm
Well, that's when the "meet & greet" starts.
(Saturday's and Sunday's closed)
Cuisine(s):
InternationalMain Course:
$80.00 – $80.00
Fine Dining
Indoor Dining
THE OLD CUNUCU HOUSE
Based on suggestions from other hotel guests, we decided to try the Old Canucu House. Located in Palm Beach, the Old Canucu House is an off the beaten path, a moderately priced restaurant serving authentic local food combined with "Native Hospitality." Built over 150 years ago, offers inside dining, or outside dining on a nice, covered patio with occasional entertainment.
We arrived for lunch and we welcomed by a lovely Aruban lady who made us feel right at home, as did all of the staff. For what they offer, their prices are very reasonable compared to what else we had experienced.
For our main dish, we chose the coconut shrimp, the Seafood Palm Beach which is shrimp, mussels, scallops, squid with whitefish in a creamy sauce, and the traditional dish, Keeshi Yena, which is chicken, cashew nuts, raisins, olives, spices, and my favorite…LOTS of melted Gouda "keeshi" (Papiamento for "cheese") For dessert, we had the vanilla ice cream with rum raisins.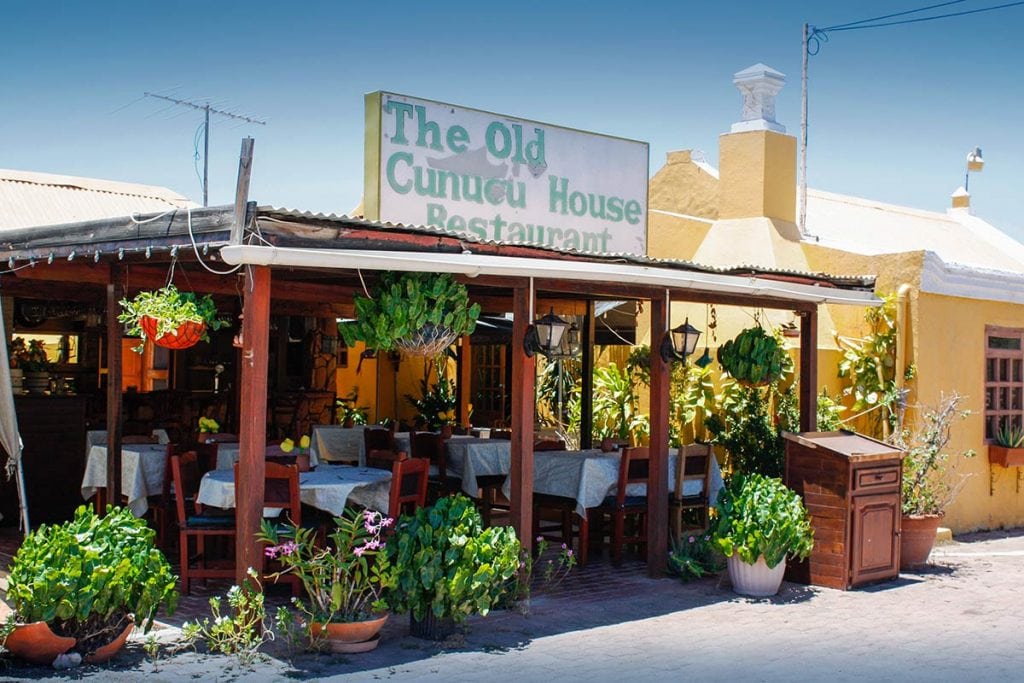 Note: Don't leave Aruba without a visit to this restaurant! You will love the feel and look of this place and enjoy the local food even more.
http://www.theoldcunucuhouse.com
Palm Beach 150
Aruba
Tel: +(297) 586 1666
Photos credits include Flicker, Creative Commons, and Personal.
TAKEAWAY: If you are ever unsure of where to go or what new restaurant to try, always ask a local!
PS – I would love to find out your favorite places to eat, so please share!
SaveSave
SaveSave
SaveSave
SaveSaveSaveSave
SaveSave